Dr Paul Nestadt
Assistant Professor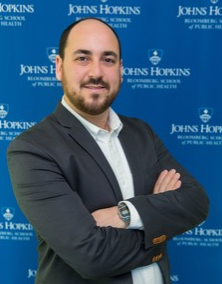 Paul Nestadt, MD is an assistant professor jointly appointed in the Department of Psychiatry and Behavioral Science at the Johns Hopkins School of Medicine, with a secondary appointment in the Department of Mental Health at the Johns Hopkins Bloomberg School of Public Health. He serves as the co-director and supervising psychiatrist for the Johns Hopkins Anxiety Disorders Clinic, where he utilizes behavioral therapies such as cognitive behavioral therapy and exposure as well as psychopharmacology for anxiety disorders including PTSD, OCD, Panic, and Generalized Anxiety in patients from the US and internationally. He is an attending psychiatrist on the Motivated Behaviors Unit, an inpatient psychiatric ward specializing in the treatment of substance use disorders in the context of major psychiatric illness.
Dr. Nestadt's current research focus on practical risk factors for suicide, such as firearm and opioid access, began during his postdoctoral fellowship in the Psychiatric Epidemiology Training Program at the Johns Hopkins Bloomberg School of Public Health. His research into the roles of firearms and opioid dependence into suicide is fueled by a fruitful partnership with the Office of the Chief Medical Examiner of Maryland, which supplies data for the development of machine learning algorithms utilized in the prediction of suicide risk. He has applied this expertise to the study of suicide in special populations including Native Americans, South Asian refugee groups, and active duty military.
Dr. Nestadt is a leader in education regarding suicidality, anxiety disorders, and psychiatric evaluation at Johns Hopkins, where he regularly presents didactics and clinical supervision for medical students, residents, and doctoral students studying the epidemiology of mental illness. He is a Fellow of the American Psychiatric Association and is on the Executive board of the Maryland Psychiatric Society. He has written several chapters for leading psychiatric and medical textbooks, and is the managing editor of the Johns Hopkins POCIT Psychiatry guide app. He has spoken nationally and internationally on the topics of suicide risk and the role of firearms, opiates, and the limitations of screening.
His research is sponsored in part by the James Wah Center for Mood Disorders Research, the American Foundation for Suicide Prevention, and the National Institutes of Health.